Bentiu-South Sudan - Mother nature has had some devastating effects across the country lately. The continuous heavy downpour led the mighty River Nile to burst its banks. Unity State, which hosts many internally displaced persons, has not been spared as more than 220,000 people have been affected by the floods, causing immense suffering and misery.
Basic needs of every woman and girl
During humanitarian disasters, the most affected population are women and girls. Thus a timely response to mitigate severe suffering saves the unfortunate situation. With women constituting the more significant percentage of the flood-affected victims, the need to ensure the availability of essential materials to enhance their safety, promote basic hygiene, enable access to humanitarian services, and ensure their mobility is ever-present. Without access to hygiene products, women and adolescent girls face a greater risk of gender-based violence as they are often targeted for abuse, and are the most vulnerable to exploitation and violence because of their gender, age, and status in society. Their health can easily get compromised, their mobility restricted and they may become increasingly isolated. 
 
Consequently, in a response to address such needs and address gender-based violence, UNFPA, and its implementing partners have provided Dignity Kits which are culturally appropriate to meet the specific needs of women and girls - a pack containing essential hygiene supplies, including bag, soap, multi-purpose garment, pair of slippers, sanitary napkins, reusable menstrual pads, underwear, UNFPA branded T-Shirt,  and Solar flashlight - to help women and girls affected by flood maintain and restore their dignity. About 2,540 of the kits were distributed to the flood-affected victims in various counties of Unity State and the IDP sites in Bentiu by UNFPA through its GBV partners. Additional 1,000 kits were distributed in Site C (Bilnyang), Site D (Thoan), and Site E (Bieh) by the International Rescue Committee (IRC) with support from UNFPA.
"I am happy and lucky to receive the dignity kit; most especially the sanitary pads, underwear, and soaps. They will be very helpful during my menstrual period as buying sanitary pads, soap and underwear is less of a concern to my parents due to other family needs," says 16-year-old Aamira [Not her real name].  
The contents of the dignity kits were assembled by IRC, using locally produced materials, including the reusable sanitary pads made by women, who were trained on hygienic pad production through a UNFPA-funded project.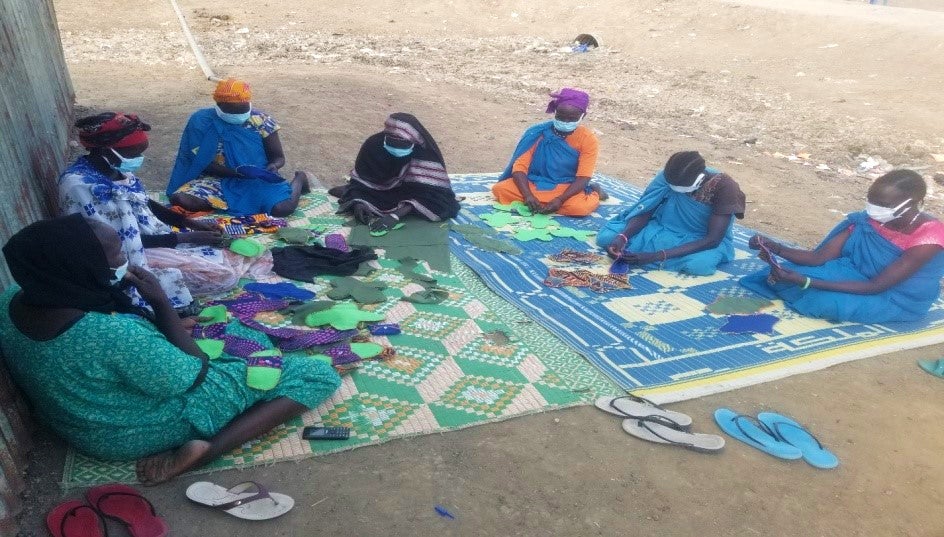 More than meeting the hygiene needs of the women
The GBV risk mitigation and income-generating programme implemented at 13 Women and Girls Friendly Spaces across South Sudan are helping women to develop their skills and capacities in income-generating activities to become economically self-sufficient. Through this, the local women become not just beneficiaries but part of the solution to meeting the specific needs of other women and girls in their community.
"Most of us have stopped collecting firewood because of flooding and we thought it was the end for us. [However], the sanitary pad production is helping us reduce our stresses through unity as we work together. It is also helping us financially since most of our products are sold out. Our products are bought by different organizations for distribution to women and girls. We are able to generate income from sanitary pads production without any GBV risk which we usually experience during firewood collection," says one of the women involved with the manufacturing of the reusable pads. 
"We are so happy and proud that we are able to make our reusable sanitary pads locally and support the other women and girls affected by the flood. It gives us the hope that we, women can do great things and contribute to our community, especially to women and girls. We are proud of our hands and we feel that we are machines ourselves and factories in our community to support our women and girls,"  says Nyamal, [not her real name], another woman involved with the production of the reusable sanitary pads in Bentiu. 
Moreover, the WGFS provides women and girls with information and services relating to their health and rights, including case management for GBV survivors, group and individual psychosocial support services and referral of the GBV survivor to related services.