You are here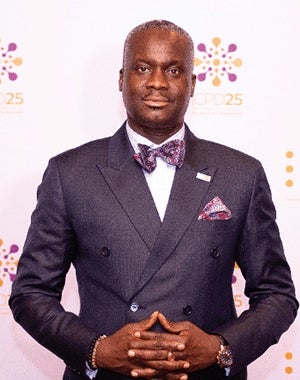 Dr. Ademola Olajide
Dr. Ademola Olajide is United Nations Population Fund(UNFPA) Country Director in South Sudan. The United Nations sexual and reproductive health and rights agency.
Dr. Ademola has more than 20 years of strategic leadership experience in the fields of preventive medicine, public and reproductive health, social justice, ending gender based violence and harmful practices. He started his career in the development world in 2003, advocating for the rights of women and girls, as a reproductive health adviser and HIV/AIDS specialist for the UNFPA Country office in Nigeria. Dr. Ademola then proceeded to spearhead the African Union to head the Health, Nutrition and Population African Union Commission in Ethiopia from 2011 to 2013.
In 2013 he joined UNFPA Namibia as the country representative and played a pivotal role in supporting interventions that enhanced reproductive health and gender equality for the country. Dr Ademola later joined UNFPA Kenya as the country representative in July 2017, where he further championed the rights of women and girls, through pioneering the active participation of youth led movements, community based organisations and government bodies such as the Anti-FGM Board of Kenya to adopt campaigns around promoting positive masculinity and putting an end to gender- based violence, female genital muitlaiton and childn marriages dubbed #KataaKatishaZuia (Refuse, stop, prevent) and #NitasimamaImara (I will stand firm). Dr. Ademola was instrumental in the launch of the #KenyaNimimi campaign that brought together youth from all over the country to advocate and engage in changing the narrative on the role of youth in ending gender based violence, peace building and youth participation in leadership. An innovative approach to enhance the full potential of the youth with the Ministry of ICT, Innovation and Youth Affairs.
Dr. Olajide holds a Bachelor's degree in Medicine and Surgery (MB'BS) from University of Ibadan, Master's degree in Business Administration (MBA) from Federal University of Technology, Master of Public Health (MPH) from the University of Ibadan and Masters of Arts in International Relations and Strategic Studies (MAIRSS) from Benue State University.
Dr. Ademola is recognized for his leadership in Kenya for advancing the rights of women and girls as well as formulating policies on sexual and reproductive health and rights in the Sustainable Development Goals era.
UNFPA is the United Nations sexual and reproductive health and rights agency, which aims to end the unmet need for contraception, end preventable deaths in pregnancy and childbirth, and end genderbased violence and harmful practices in all forms, including an end to child marriage and female