In South Sudan, it is not uncommon for family planning to result in domestic violence. A wife can get beaten up if her husband finds out she's using modern contraceptives. Some health workers are also not comfortable providing family planning to women who are not accompanied by husbands for fear of being harmed.
The deeply-rooted socio-cultural factors that espouse larger families and strongly discourage family planning is one of the reasons why South Sudan has the lowest contraceptive use in East and Southern Africa Region at less than 5 per cent for all methods, and only 1.7 per cent for modern methods.
But it is starting to change, albeit slowly. At the Wau Teaching Hospital Family Planning Clinic, health workers were pleasantly surprised one day when a couple came to thank them and UNFPA for making family planning services available.
The couple started family planning after the birth of their fourth child amidst worries brought by anecdotes in the community that contraceptives would affect the woman's chances of getting pregnant in the future. Such myth was busted when the couple decided to have a fifth child and the woman got pregnant within two months of stopping contraceptive use.
The thankful husband, Mr. Alamin Jumal, admits that despite the myth being propagated in their community, they pursued their decision to get into family planning due of financial difficulties. Their decision proved right. Because of family planning, they were able to better allocate their resources for the members of the family and meet their basic needs.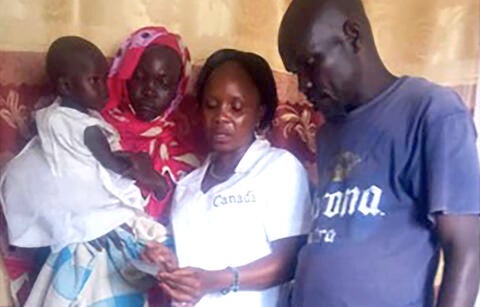 The Jumal couple gets family planning advice from a midwife (middle) at Wau Teaching Hospital.
"We could have only done this with family planning," says Mr. Jumal. "In the past, it was not possible to plan for this kind of good spacing of children."
Mr. Jumal encourages health workers to continue educating the public on the benefits of family planning. "Unless we allay people's fears, they will not come even if the services are available and accessible right here," he says.
For those who are worried about not being able to bear children again after family planning, Mr. Jumal offers his wife's experience as proof that it is not true. "Timing and spacing are important for both mothers and their children. It is also good for improving the family's quality of life."
UNFPA, the United Nations sexual and reproductive health agency, is supporting the government of South Sudan scale up the uptake of family planning in Wau. In collaboration with the State Ministry of Health, UNFPA conducted sensitization meetings for community leaders, including local chiefs, religious leaders, and women and youth leaders last June. This follows through on the high-level advocacy meeting with state ministers, parliamentarians, traditional and religious leaders, and women and youth leaders, where the opinion leaders declared support for family planning.
Wau State Governor Andrea Mayar Achor spoke positively about child spacing, clarifying that it has been in practice in South Sudan for decades now. "It is just sad that child spacing is no longer practiced by many couples nowadays," he laments. "Women are delivering more frequently and many young girls are getting pregnant very early, forcing them to drop out from school."
UNFPA conducted family planning refresher training for 27 health workers from various health facilities in Western Bahr el Ghazal to improve access to quality family planning services. The health workers are supported and mentored by national and international volunteer midwives deployed by UNFPA under its flagship midwifery project Strengthening Midwifery Services II, which is funded by the Governments of Canada and Sweden. The UNFPA Supplies program is also providing all the contraceptive needs of the country, besides the technical assistance and human resources to enhance reproductive health commodity security.