Nyomon Lilian will never forget the day she decided to become a midwife.
"Watching my neighbor die during childbirth emboldened me to make the decision to enroll in midwifery," says the 25-year-old. "The woman assisting her had no knowledge of what to do."
A few years ago, in her hometown of Kajo Keji, in South Sudan's Equatoria region, Lilian watched as her neighbor bled out after giving birth. The mother was rushed to the hospital but it was too late. She died, leaving behind five small children.
Although Lilian says it was a life-changing moment, she admits it wasn't the first time she had seen a woman die during childbirth. "I've seen it with my own eyes," she says. "Women dying because of bleeding."
When Lilian heard on the local radio station about the midwifery scholarship programme being offered by the Strengthening Midwifery Services Project (SMS Project) of UNFPA in South Sudan, she applied that same day.
The eager student and her 58 classmates haven't had it easy. Studying in a war zone is complicated at best and fatal at worst.
When fighting broke out in Lilian's hometown in Kajo Keji early in 2017, she and the rest of the students in the school were forced to flee. The kids actually did not want to leave the school. They were the last people there.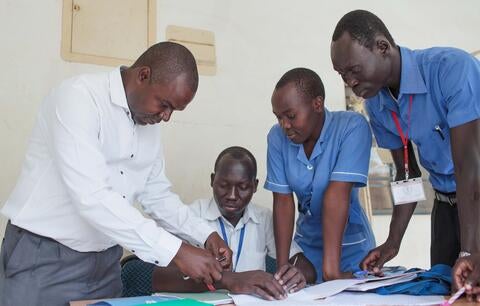 When clashes broke out, most of the people in town fled to the bush. Lilian and her classmates had no patients left to treat and began to fear for their lives.
"We heard gunshots in the school. I took my uniform and left behind my books and everything else," she narrates. What worried her more than the bullets was the possibility of not being able to go back to school.
"I was really sad," she says. Lilian and her classmates sought refuge in Uganda until the SMS Project relocated the class to South Sudan's capital of Juba.
"I feel a lot better now that we're back in school," says Lilian.
Although it's not the same as being at home, the young student says she just wants to absorb all she can in order to help those back in her community.
Now in her second year of the course, she is not yet able to do practical training. However, she was able to do her first delivery through the programme's "open days." Lilian says she loves babies and can't wait to do more.
In the meantime, she's learning about the causes of death that affect thousands of women across South Sudan. She believes that one of the biggest obstacles in combatting the high maternal mortality rate is the widespread ignorance among rural communities.
"People do not know about hemorrhaging. Mothers are also not aware that they need to eat well and treat illnesses like malaria when they are pregnant," she says. Lilian now encourages mothers living in remote towns to get antenatal check-ups, especially if they're experiencing unusual symptoms during pregnancy.
When the fighting subsides, she hopes to return to Kajo Keji and support women in her hometown so that she won't have to witness a generation of children grow up without mothers.