ADJUMANI, Uganda – Twenty-five-year-old Chris Kwikiriza has beat the odds. A midwife in the Boroli refugee settlement, in Uganda's Adjumani District, he is helping pregnant women overcome their fears of giving birth in a health facility – under the care of a man.
Since conflict erupted in South Sudan a year and a half ago, some 150,000 refugees have fled to Uganda. Many are women and girls of reproductive age, and thousands of them are pregnant or can be expected to become pregnant while living in refugee camps.
Yet many women in the Boroli camp are reluctant to deliver in the health centres, partly out of anxiety over male midwives, who are widely perceived as less gentle and kind.
"The culture here is very different," said Aggrey Aikirize, a social worker in the settlement. "Some women are afraid to deliver at the health centre in fear of being handled by a man."
But Mr. Kwikiriza has worked hard to be sensitive and attentive to women's needs, and has managed to become one of the most trusted midwives in the area. 
"Word has gone around, and many expectant mothers now come to the health centre looking for me," he said.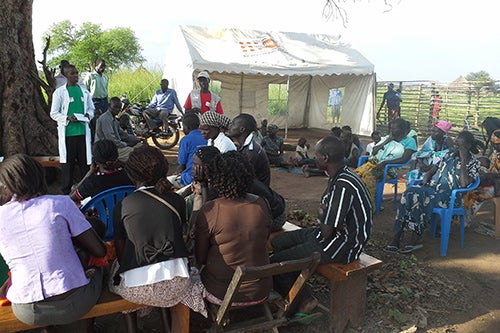 He is now working to ensure all women receive the care they need, no matter the gender of the health staff.
Making the case for male midwives
Mr. Kwikiriza is one of two male midwives stationed at Biira Health Centre III, near the Boroli settlement. He delivers 25 babies a month, and as the community becomes more comfortable with the idea of male midwives, he expects the number to rise.
Mr. Kwikiriza is working with UNFPA and the Agency for Cooperation and Research in Development (ACORD) to dispel women's fears about health facilities and male midwives. At a recent community dialogue supported by UNFPA and ACORD, held under the shade of a tall tree, Mr. Kwikiriza made the case for delivering in a health centre, even if a male midwife is present.
"I want to tell you there is no mother who comes to a health centre and finds a male midwife who will refuse to attend to her," he said. 
He then asked for a show of hands. "How many of you are afraid to be delivered by a man? Hands up please."
The women giggled, but no one raised an arm.
"And how many of you in this crowd have I personally delivered?" he asked. Three women raised their hands.
"When that man delivered my baby, everything went on well," one woman said, pointing at Mr. Kwikiriza. "He did not hurt me and treated me very well. During the night, he even came to the ward to check how the baby and I were doing. He then returned again in the morning when I was being discharged. During my stay at the hospital, I did not endure a lot of pain."
"My experience was similar," said another woman. "I had no complications while delivering in the hands of Chris."
Promoting antenatal care, institutional delivery
Mr. Kwikiriza also emphasized the importance of receiving antenatal care at least four times, and encouraged the women to deliver at a health facility.
"We are there to help you and make your deliveries safe and a memorable experience," he said. "I know, by culture, many of you prefer to deliver at home. But this is not advisable."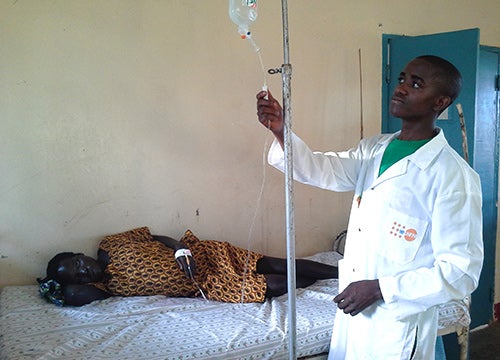 He explained that trained health workers know how to manage pregnancy complications. "When you deliver at home, there are many possibilities of bleeding too much. And you do not know how to stop that bleeding. But when you deliver in a facility, we monitor you very well," he said.
He also encouraged women to use the village ambulance for transportation during labour.
Mr. Aikirize asked the women to share what they had learned with their friends and family: "I want us to take these as action points so that you all know you are responsible for the health of your neighbour and your pregnancy."
Nargis Buruga, a community health volunteer, agreed: "There is no need to be afraid…I encourage you all to deliver at the health centre."
She gestured towards Mr. Kwikiriza. "This is our man," she said. "If you are pregnant, all you have to do is go to Biira Health Centre and look for the man in the white coat."
–Evelyn Kiapi