JUBA, South Sudan – It is the middle of the night in a crowded displacement camp in Juba, South Sudan, and 25-year-old Marsa Nyaluak is losing blood fast. She is in labour and has been bleeding for two hours. She needs help.
Her anxious husband looks on as another woman furiously works to keep Ms. Nyaluak and the baby alive.
"The problem was she was having a breech birth," says 36-year-old Ana Chuoch David, a community midwife, herself a mother of seven. "The baby's leg came out first. Luckily the baby was small enough so that I could manage to deliver it without surgery."
After the baby was born, Ms. Nyaluak faded in and out of consciousness. Blood loss had made her extremely weak. Ms. David sat with her until morning, monitoring both her and the baby, keeping the new mom on a consistent IV drip.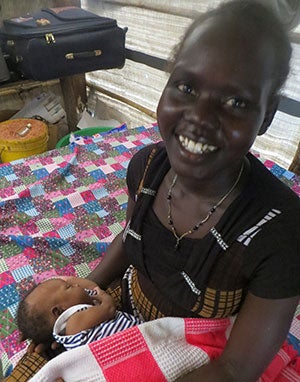 Crisis conditions
The crisis in South Sudan has uprooted almost 1.5 million people and an estimated 7.3 million are at risk of disease and hunger, according to the most recent estimates by the UN Office for the Coordination of Humanitarian Affairs.
Pregnant women are among the most vulnerable. When the country became independent in 2011, it had the highest maternal mortality rate in the world. Women in South Sudan have extremely limited access to maternal health services, a situation exacerbated by the ongoing conflict.
The clinic inside the Juba 3 displacement camp is run by UNFPA and its partner International Medical Corps. During the day, the tent is bustling with pregnant women receiving antenatal care, but in the dead of night there is no one around but community midwives like Ms. David, who work under precarious circumstances to usher in the next generation of South Sudan. They must be on call 24/7.
Ms. David – who lives in the camp after having been displaced by violence in her home state – is up for the challenge.
"Marsa's husband ran to my tent to wake me up in the middle of the night. I got up and rushed to the clinic," she says.
She recently completed an 18-month midwifery training programme that was offered by the government and supported by UNFPA. Completion of the programme does not qualify her as a professional midwife yet, but has given her life-saving skills that she can use where they are critically needed, like in a displacement camp in the middle of the night.
"Here in the clinic I see all of the complications that I learned about in the programme, and I can put what I learned into practice," she says.
Saving lives
"In the case of Marsa, we gave her IV fluid, iron and vitamins. We struggled to get blood, but there was none. We could not get a transfusion."
During a crisis it is very hard to find transportation to a hospital, especially at night, says Catherine Munuki, an international midwifery tutor who works with UNFPA. She adds that blood transfusions are extremely difficult to access unless a patient can make it to a hospital in time.
Ms. Nyaluak survived, but only after losing almost one litre of blood.
Without Ms. David and the clinic, she might not have made it.
"I was just wondering what was wrong," Ms. Nyaluak recalls. "I felt really dizzy, but I knew that I would survive, even though I didn't have enough blood. I could see they were working to make sure I was OK."
She knows how fortunate she is. "I am happy the clinic is here," she says. "Ana saved my life."
In addition to supporting training programmes and clinics, UNFPA supplies emergency safe delivery and reproductive health kits to operating government health facilities, NGO partners and makeshift maternal clinics in civilian camps across South Sudan.