JUBA/NEW YORK – No reliable figures chart the current suffering of women and girls in South Sudan. But one can reliably say that the new country is one of the worst places on earth for their health and well-being. Many girls, like Regina Awol Deng suffer days of agonizing labour pains for lack of timely emergency care, endangering their lives.
Not so long ago, when the country became independent in July 2011, hopes were high for a brighter future after Africa's longest-running civil war.
But those hopes were put on hold when brutal fighting broke out one year ago.
Dashed hopes and more suffering
Since then, more than 1.5 million people have fled their homes. Violence has pushed health workers to abandon their posts, and weak health and education systems have collapsed.
Even before the recent conflict, maternal and newborn deaths were among the highest in the world, most births took place without skilled attendance, and use of modern contraception was rare.
UNFPA estimates that nearly 5 million people are in need of humanitarian assistance, including 700,000 women of reproductive age. Almost 5,000 births are expected per month in the near future. Some 25,000 women and girls are at risk of sexual violence.
Strengthening emergency obstetric care
Support from the Government of Japan is one bright spot: Through a partnership between UNFPA and Japan, two new ambulances were delivered to help women and girls like Regina get to emergency obstetric care in time.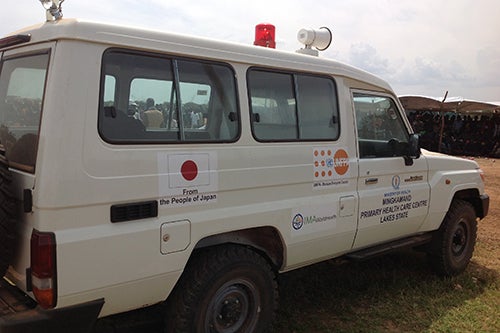 The ambulances are part of a larger, $1.2 million project called 'Strengthening Emergency Obstetric Care in Humanitarian Hotspots in South Sudan'. Since February 2014, the project has provided health services in the most conflict-affected states of the country, strengthening existing health facilities and building the capacity of community health workers.
The  ambulances, managed by international NGO Interchurch Medical Aid (IMA), are now serving displaced populations in Lakes and Jongeli states, where pregnant women face extraordinary challenges. Many live in cramped, swelteringly hot conditions with limited access to basic necessities, facing the constant threat of insecurity and heightened risk of deadly diseases such as malaria, typhoid and cholera.
"The funding from the Government of Japan comes at a critical time for the women of South Sudan. Japan's priorities of saving women's and children's lives is directly in line with UNFPA's current humanitarian response," said Barnabas Yisa, UNFPA's representative in South Sudan.
Broadening the response
The project will also respond to the country's high incidence of sexual violence, said Takeshi Akamatsu, Japan's ambassador to South Sudan. Many health workers currently do not have the tools to deal with the influx of survivors of sexual violence who are showing up at clinics, in need of both psychosocial and medical care. The project will provide health workers with training in the clinical management of rape.
"UNFPA plays a vital role in increasing the access of pregnant women to health facilities as well as responding to sexual violence in the conflict affected areas of South Sudan," the ambassador noted.
In the last year, UNFPA support has assisted more than 14,000 South Sudanese women in labour, and helped offer Caesarean sections to one in ten of those women. Close to 90,000 women have received antenatal care, and some 12,000 dignity kits have been distributed, and messages aimed at preventing gender-based violence have reached more than 135,000 people, thanks to support from UNFPA and additional donors, including the United States and Denmark.
UNFPA is still seeking some $11 million in funding to carry out its work to improve the sexual and reproductive health of women and girls in South Sudan.
– Jaime Jacques